Three stimulus packages have passed through Congress in the past 12 months – here's what that means for Education.
At A Glance:
CARES Act
Also known as the Coronavirus Aid, Relief, and Economic Security Act, this was the first stimulus bill signed into law in March 2020. This act includes approximately 30.135 billion dollars in relief for education in elementary and secondary schools as well as higher education institutions. Schools have one year to spend the funds and anything unused by their spring 2021 deadline will be returned to the state for reallocation. CARES also set the precedent that stimulus funds will be distributed the same way Title I funds are, meaning high-poverty districts should receive more. View district allocations here.
CRRSAA
The Coronavirus Response and Relief Supplemental Act became law on December 27, 2020, and authorized another $81.88 billion for education in addition to the money from the CARES Act. The CRRSAA also allows schools with unexpended funds from the previous CARES Act to utilize them for the provisions set under this bill and mentioned below.
ARP
The American Rescue Plan is the third federal COVID-19 relief measure and the largest appropriation of funds yet for education. The funds from this legislation are meant to assist in the safe re-opening of in-person instruction at K12 schools, address the learning recovery needs of students affected by disruptions in education, support institutions of higher education, and help students cope with the financial strains caused by the pandemic. Funding provided to states through the American Rescue Plan is available for expenditure through September 30, 2023.

How Can This Funding Be Used?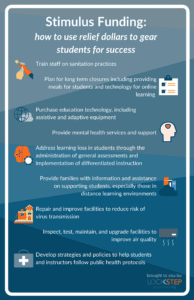 Elementary and Secondary School Emergency Relief (ESSER)
The American Rescue Plan specifically states that 72.5% of K-12 dollars can be used for any activity authorized by the Elementary and Secondary Education Act, Individuals with Disabilities Act, Adult Education and Family Literacy Act, Carl D. Perkins Career and Technical Education Act, as well as to fund coordinated efforts of LEAs with state, local, tribal, and territorial public health departments as well as other relevant agencies.
Specific activities in the legislature that may be funded with appropriations from any of the stimulus packages include:
Training staff on sanitation and disease spread minimizing practices
Planning for activities during long-term closures, including providing technology for online learning
Purchasing educational technology, including hardware, software, and connectivity, that aids in regular and substantive educational interaction between students and instructors which may include assistive technology or adaptive equipment for low-income students and children with disabilities
Additionally, 7.2 billion of ESSER funds under the ARP have been earmarked for use in the E-Rate program
Using evidence-based approaches to address learning loss, which can include assessments and distance learning equipment
Higher Education Emergency Relief Fund (HEERF)
At least 50% of an institution's total allotment must go to student grants. The other 50% may be used to defray expenses associated with COVID-19, including but in no way limited to:
Lost revenue
Reimbursement for expenses already incurred
Technology costs associated with a transition to distance education
Faculty and staff training
In March of 2020, the US Department of Education asked educators to consider the following five questions:
Will the proposed use of funds "prevent, prepare for, and respond to Coronavirus?"
Is it an allowable use of funds under the CARES Act?
Is it reasonable and necessary?
Does it promote equity?
Does it support returning students to the classroom?
In March of 2021, Lockstep Education is asking educators to consider the following question:
"How can these dollars be invested in our students so they can continue to grow for years to come?"